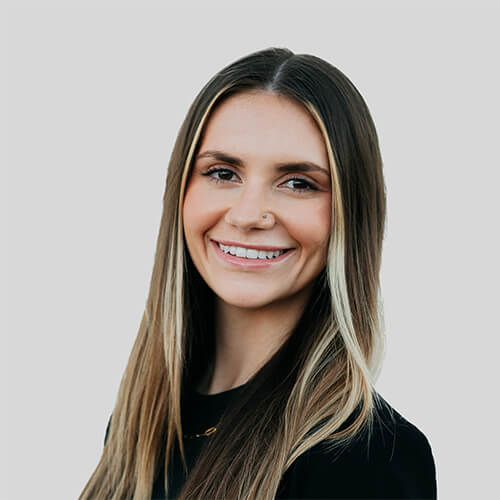 Katie first began her real estate career in 2016 while working for Haggart Homes, a custom residential home developer in her hometown of Portland, Oregon. Since then, she has graduated from the Argyros School of Business and Economics at Chapman University with a degree in Business real estate as well as honors in leadership studies. Katie obtained her real estate license shortly after graduating and has been working as an associate realtor since. Katie's passion for helping people and abilities to problem solve allows her clients to feel at ease in any transaction. Katie's aptitude for organization and promptness sets her apart from others in allowing clients to receive the most premier service possible. Katie is excited to be working with Aragone & Associates and hopes to assist a multitude of current homeowners and first-time buyers in the process of finding their perfect fit.

""I am more than pleased to recommend Paula Aragone without any hesitation. Her work ethic is flawless. She clearly has superior knowledge of her complicated field. She is cognizant concerning the myriad of options and consequ
…
ences related to her work, and she provides accurate and reliable feedback whenever it is required. Among the enormous choices available within this particular marketplace, Paula is a rare jewel. I hope to have the opportunity to work with her again in the future.""

"We worked with Dawna in buying our second home and renting out our first home. It was one of the most difficult experiences, but Dawna was our shining light and solid beam through it all! She not only was always available to
…
talk and answer questions, but she advocated and fought so hard for us to finally be able to close! She took exceptional care with us and we trusted and had full confidence in her and her many years of experience. Her advice throughout the process was truly invaluable. We could not have asked for anyone better to be on our team and will 100% go to her for any future real estate needs!"

"It was great working with Paula. I've had the honor of working with her on multiple home sales/purchases. Her communication is great. She's very polite and gives great advice. Her negotiation skills are also very impressive.
…
She makes selling and purchasing a home very easy. I'm looking forward to working with her again in the future."

"Using Dawna to sell our condo and purchase a new home was the best decision we could have made in 2023. Dawna is everything you want in a real estate agent and more. First, she priced our condo perfectly so that we had multip
…
le offers over-asking within a few days of listing. Then, when it came to looking for a replacement home, she was extremely knowledgable of the Southern California housing market as only someone who's worked in this area for years would be. She quickly jumped on any listings we were interested in, even to the point of calling a listing agent after 9:00 pm to ask about a listing we wanted to tour. We looked at dozens of properties and with each open house, it was clear Dawna was always looking out for our best interest, rather than her own. She took us under her wing, treating us like family, and made sure we found the best value of home at our price range. She negotiated hard for us to get our dream home and of course, we got it! The best part was how willing she was to answer our calls or texts at any time of day. You can tell how hard she works for her clients by how quickly and considerately she responds. Thank you for everything Dawna!"

"Wow! Professional, knowledgeable, caring, friendly, loving, and her expertise on real estate. Dawna not only represented herself as an excellent real estate agent, but also as a confidant. I learned so much as she guided me t
…
hrough the selling of my mami's house and she navigated me through to the end. My property was not in her area, but she had her relationships which made it even better. I now have a better outlook on real estate and how selling a property works. I owe this to Dawna. She held my hand till the end. Overall FANTASTIC! I plan on using her services again. What matters most to me in real estate, are agents who listen to your needs and knows how to balance both so that the agent and client are happy and secure in their choices in helping you get as much as you can out of the sell. RELATIONSHIP RELATIONSHIP RELATIONSHIP! Just like LOCATION LOCATION LOCATION! I thank God for Dawna she really got me through a difficult time. I am so glad I followed her lead. Thank you Dawna and God bless you! ????????"

"Dear Paula,Thank you so much for all of your efforts helping us to get in to the home of our dreams! Your knowledge, professionalism, attention to detail, tenacity and understanding all worked together to make the whole home
…
buying process as painless and streamlined as possible. We are so excited to be moving soon into this beautiful home, and we couldn't have done it without you! Not having bought real estate for more than 30 years, we needed a lot of guidance and hand-holding, and you delivered!We are grateful!Mark and Wendy"

"I have moved 11 times in the past 30 years and never did I get the service Paula Aragone offered! Paula was on the mark with all her suggestions and directions. She recommended we do some updates and upgrades to the home in
…
order to get top dollar and sell quickly. We listened to who I affectionally called the General, since she had a crew of people working in our home and got everything done in 3 weeks! Our San Clemente home sold in less than a month for the highest price for that same model with $100,000 over the last closed sale a month prior.Paula is smart, precise and fun to work with! If you plan to sell go with Paula & her team at Aragone & Associates, you will be very glad you did!"

"I just completed the purchase of a beautiful new home with the help of Paula Aragone with Aragone and Associates. Paula was simply amazing. She handled every part of the transaction process with ease and efficiently. She was
…
extremely attentive, responsive and even helped with recommendations of skilled trades to do some renovations that I desired in my new home. Paula did such an excellent job with the purchase of my new home that I hired her to sell my current home. I highly recommend Paula to anyone who is looking to buy or sell a home."
© Zillow, Inc., 2006-2016. Use is subject to Terms of Use What's a Zestimate?