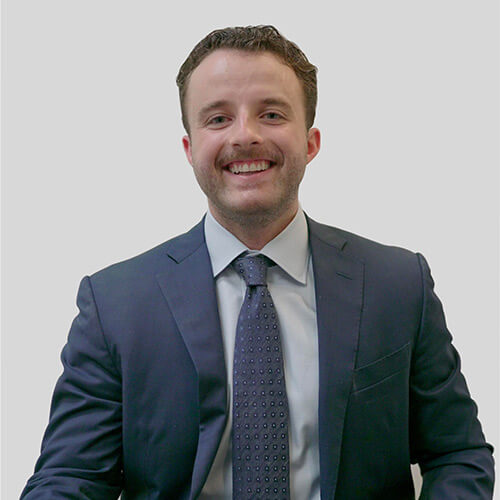 Jordan Wagner first began his real estate career in 2016 in his home state of Colorado working for Rae Scott Corp. Jordan helped research potential investment properties in the commercial and residential markets in Colorado. He also assisted with property management for the investment properties of Rae Scott Corp. After graduating with a double major in finance and economics from The Argyros School of Business at Chapman University here in Orange, Jordan obtained his California real estate license in 2021 and began his career as a realtor with First Team Real Estate. Jordan's work ethic and determination allows for his clients to receive the best service possible. With his extensive and ever growing knowledge of the SoCal real estate market Jordan ensures he will help each client find their dream home. As a Colorado native, Jordan loves to explore the outdoors and enjoys each opportunity he gets to travel to the mountains. Jordan is excited to be working with Aragone & Associates and hopes to help as many homeowners as possible to find their perfect fit.

"Dear Paula,Thank you so much for all of your efforts helping us to get in to the home of our dreams! Your knowledge, professionalism, attention to detail, tenacity and understanding all worked together to make the whole home
…
buying process as painless and streamlined as possible. We are so excited to be moving soon into this beautiful home, and we couldn't have done it without you! Not having bought real estate for more than 30 years, we needed a lot of guidance and hand-holding, and you delivered!We are grateful!Mark and Wendy"

"I have moved 11 times in the past 30 years and never did I get the service Paula Aragone offered! Paula was on the mark with all her suggestions and directions. She recommended we do some updates and upgrades to the home in
…
order to get top dollar and sell quickly. We listened to who I affectionally called the General, since she had a crew of people working in our home and got everything done in 3 weeks! Our San Clemente home sold in less than a month for the highest price for that same model with $100,000 over the last closed sale a month prior.Paula is smart, precise and fun to work with! If you plan to sell go with Paula & her team at Aragone & Associates, you will be very glad you did!"

"I just completed the purchase of a beautiful new home with the help of Paula Aragone with Aragone and Associates. Paula was simply amazing. She handled every part of the transaction process with ease and efficiently. She was
…
extremely attentive, responsive and even helped with recommendations of skilled trades to do some renovations that I desired in my new home. Paula did such an excellent job with the purchase of my new home that I hired her to sell my current home. I highly recommend Paula to anyone who is looking to buy or sell a home."

"Our experience with Aragone and Associates, specifically Paula and Dawna, was tremendous. We were selling my mother's home as she moved into an independent living facility. Paula and Dawna were professional, knowledgeable and
…
thorough. The house sold immediately at above the asking price and closing was fast and hassle free. We can't recommended Paula more highly."

"Dawna is fantastic. She helped us with both buying a new house and selling our old house. She made the process so easy. When we did have questions she was always available to talk, and was able to give us helpful answers. Whe
…
n she didn't know something, she would investigate and get back to us quickly. I couldn't ask for a better real estate agent."

"Aragone & Associates was helpful, informative and knowledgeable every step of the way as we navigated selling our investment property. We will use your organization again in the future and refer you to friends & family. Thank
…
you Paula Aragone and Jordan Wagner!"

"Paula and Dawna are fantastic. They recently helped my family and I sell our father's condo after he passed away. A probate/estate sale is no easy task, but they did it with grace, and a non-stop work ethic. We had to sell
…
within 45 days and they made it happen! Both of them communicated every step. Every email and text were answered promptly and accurately. I felt like I was their most important client during the entire process. Please consider them to sell your home - it will be the best decision you make."

"There are so many wonderful things to say, it's hard to find where to begin. Without sounding cliché, Paula is absolutely The Best! We had been looking at difference areas in South Orange County after moving from San Diego t
…
hree years ago. We stumbled upon our recent purchase, and believe this home found us. Because we were not actively looking to purchase, we did not have a Realtor.Paula was the listing agent, and we immediately knew she was the one for us. She is incredibly hard working, knowledgeable, and ethical. She guided us each step of the way. Paula was there to help expedite those items that needed attention. She takes control with class, style, and a positive attitude that makes everything work out perfectly.This was, hands down, the most pleasant real estate transaction we have ever experienced. We truly believe that had we not had Paula as our agent, this dream property might have slipped through our fingers. We have our agent, and we now have a new friend. We cannot emphasize enough how happy we are, and how thankful we are for Paula - The Consummate Professional!"
© Zillow, Inc., 2006-2016. Use is subject to Terms of Use What's a Zestimate?